Shore Printed Circuits is a provider of contract manufacturing services for the electronics industry.
As electronic technology advances, so does the requirement for advanced assembly equipment and process control. At Shore Printed Circuits, we make the investment in modern electronic assembly equipment and advanced process knowledge, so you can stay focused on your core business. Shore Printed Circuits strives to become an integrated assembly solution for our customers business, operating as an extension of your company without the investment in electronic assembly equipment and process knowledge.
From prototype to production quantities, we have an extensive range of state of the art factory automation to meet your requirements. We routinely work with the latest SMT devices including ultra-fine pitch, BGA, Micro-BGA as well as conventional SMT and through-hole devices.
From management to our production teams, we fully understand the importance of providing our customers with the highest standard of quality at a competitive price. Shore Printed Circuits is dedicated to meet or exceed our customer's expectations.
Turn-Key or Consigned (Kit) Builds
X-Ray & Automated Optical Inspection (AOI)
Automated Selective Solder
Fine Pitch QFP & uBGA Placement
BGA Replacement & Rework Service
At Shore Printed Circuits we understand that quality, on time delivery, communication, and unyielding service is critical to our customers success. We strive to operate as a seamless extension of your business, while providing a high quality product with exceptional delivery performance.

Exceptional Delivery
On time delivery and fast turn-around times.

Competitive Pricing
Competitive prices while maintaining high-quality service.

IPC-A-610 Trained Staff
Products assembled by experienced and IPC-A-610 trained staff.

ISO 9001:2008 Certified
Our Quality Management System is in accordance with the ISO 9001-2008 Standard.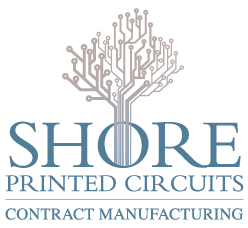 Shore Printed Circuits, Inc.
3 Meridian Road
Eatontown, NJ 07724